The Online Video Game rental is growing part of the huge UK Video Games market which is estimated to be worth a total of over £2 billion a year! Boomerang is the UK's leading independant Video Game Rental site.
With the current economic uncertainty, more gamers are choosing to rent. They can still play those brand new releases, but at a fraction of the cost of purchase.
Since we were established in 2005, we have built an excellent reputation by offering a first class rental service, backed up by responsive customer support.
We offer a unique mix of a first class website, a wide range of titles stocked and an unrivalled range of membership packages. We believe we are also the only site offering downloadable instruction manuals, not to be underestimated when customers want the most from the games they rent!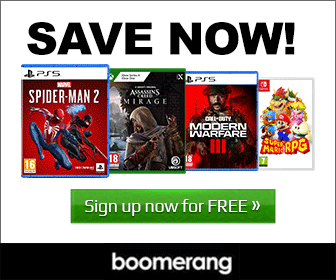 Not only that, we also sell ex-rental games and give our customers the option to buy the game they are renting. We also sell new games at fantastic prices.
So, not only do our affiliates have the opportunity to earn great commission on successful free trial sign ups, they can also earn commission on any purchases made within the first 30 days!
Demographics
Our customer demographic is wide, like the rest of the Video Games market in the UK. We have typical gamers – male 20-35 years old, through to female gamers and families. 25% of our registered customers are female, either renting themselves or have signed on behalf of their partner or for their family. The peak period for new sign ups is October through to May.
Why Do Our Customers Use Us?
We rent games across 7 major formats including Xbox 360, PS3, Wii U and PS Vita and stock literally thousands of titles. Customers can choose from an extensive range of membership packages, with something to suit every budget and style of gamer, from core gamers to families. Our 21 day free trial is the longest standard free trial in the UK.
We have recently launched a Loyalty Program and a Service Guarantee, further differentiating ourselves from the competition.
We offer the cheapest video game rental package on the market at only £3.99 a month!